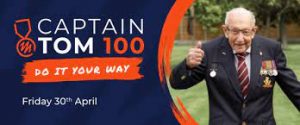 This Friday, Friday 30th April, marks the beginning of the Captain Tom 100 Challenge which will continue until Bank Holiday Monday 3rd May. 
The family of Sir Captain Tom Moore is inviting the world to take inspiration from his famous 100 laps around his garden to celebrate Tom's life, his generosity of spirit and the hope and joy he brought to millions.
YOU can join this celebration and take part in the Captain Tom 100 by setting yourself your own challenge based around the number 100!
Let the number 100 be your inspiration and do something amazing, whether it's..
100 Star Jumps
100 laps of your garden
100 minutes of gaming
Baking 100 cupcakes
Singing for 100 minutes.
We would love to see lots of you taking part and taking lots of photographs of your challenges. Please send any photographs or videos to [email protected] so we can celebrate your contributions on the blog.
Here is a video with more information about the fundraising event.

Click on the link below if you would like to donate to the Captain Tom Foundation:
I can't wait to see what you achieve in your challenges!
#CrewGreenTop #CaptainTom100